What should you do if your Brother printer does not recognize the compatible ink cartridges?
8/23/2018
WebCartucho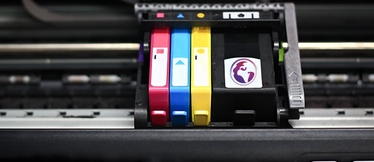 Has your printer ever showed the message "Cartridge is not recognized"? This message could be a symptom of various problems. In this article, we will explain you the possible causes of this problem, but mainly, how to solve the problem. 
The chip is probably the element of the cartridge which may present problems if it is not treated correctly. A bad use of the consumable can lead to fatal damage. This component is responsible for ensuring that the printer recognizes the compatible ink cartridges, and also for keeping all the information of the cartridge, like the ink level or the number of pages printed. 
If at first sight we notice any defect on the cartridge chip like, for example, that it is scratched, has an anomaly or is broken, the best solution would be to change the cartridge. There is the possibility of replacing just the chip, but it is a very laborious work and, because of the cost on money and time that it would imply, it could not profitable.  
If no physical defect is detected on the chip, it is possible that it is dirty or stained with ink residues of previous printings. In this case, the solution is easy: you just have to clean the chip with a gauze or a cotton swab moistened with alcohol and dry it after with a gauze. With this simple step, the device will recognize the cartridge again; but if it does not happen, it can be because the contacts inside the printer are stained with ink residues of previous printings, so we should follow the same cleaning process with them.
As we have already mentioned on other articles, the consumable chip counts with a print counter. In case of the compatible cartridges, it is possible that when the measuring reaches the stipulated maximum by Brother for this cartridge, the printer will stop printing. But this bug has an easy solution because it is possible to reset the measuring so as the printer keeps printing. 
If the problem persists, after having verified all the above, the condition of the cartridge should be verified, starting with checking if it is correctly installed. To make sure that it is correctly inserted, we should hear a "click" when we insert it. 
As a last option to solve this problem, we should examine the printer, because it is possible that it does not recognize the compatible cartridges because of a problem with the firmware. The firmware allows the software to send information to the hardware and it cannot be changed or updated, because it is the own brand Brother the one that must update it so as its printers do not recognize the compatible cartridges. The solution to this would be to never update the printer firmware so as it keeps working as always and recognizing the compatible cartridges.