What are the new developments of the HP Photosmart 5520 printers?
3/12/2019
Webcartucho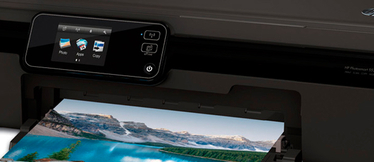 Do you know the new developments of the HP Photosmart 5520 printers? HP has renovated the multifunction printers to create this model. What has changed? What has improved?
This multifunction printer allows you to print high quality photos, documents and web content from virtually anywhere thanks to its wireless function. It is true that our society wants wireless printers and to print from particular applications. Besides, this printer is compatible with iOS and Android, the most used operating systems nowadays.
The most significant development is its dual motor that doubles the printing speed. Compared to their predecessor, the HP Photosmart 5520 printers can print up to 10 pages more at the same time. This means that the printers are faster and more useful. In addition to that, the printouts in colour reduce the printing time to 30 seconds. They can even print images on photographic paper (4" x 6") in about one minute.
Their LCD screen of 2.65" makes everything easier. It has highly sensitive buttons, like those of a cell phone. Another great advantage is that they are always on saving mode by default. 
The HP Photosmart 5520 printer is recommended for domestic use and if you like printing photographs. 
In order to make your printouts more natural, the printer uses four cartridges that you can find on standard or large capacity versions. This printer uses HP 364 cartridges, available in four colours: black, cyan, magenta and yellow. To sum up, HP Photosmart 5520 printers have the same success as their predecessor, but they have a dual motor, the ability to print from other devices and they are faster and more compact.