What are the characteristics of the HP CE285A toner cartridges?
4/9/2019
Webcartucho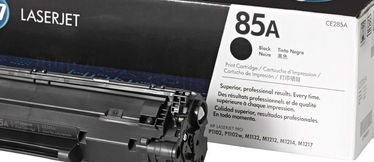 Do you use the HP CE285A toner cartridges? On this article we will tell you everything you need to know about these products. Sometimes we use some things and we don't think what they really are.
So, the first thing to know is that this type of toners are manufactured by Hewlett Packard or HP. The printing colour is black (it does not contain coloured powder) and they are known as HP CE285A (85A). 
Another thing you need to know is that they are often compatible with several printers. That is the case of the HP 85A cartridges. However, you must bear in mind that their performance will depend on the model of printer you use.
The HP CE285A (85A) toner cartridges are perfect if you have a small business or if you want to use them on universities, cafés or libraries, where the volume of printing is relatively high.
Do you know the number of copies they can print? These consumables have a page yield of 1,600 copies. This means that this toner is a good option not only for small businesses. It is also perfect for domestic use due to its long useful life. Besides, the quality of HP will guarantee a clear and defined printing as well as a proper greyscale on black and white images.
You won't need to worry about the installation because it is a very simple process.
What printers are compatible with the CE285A cartridges?
Remember that at WebCartridge we offer a wide catalogue where you can find the CE285A (HP 85A) toner cartridges.