WebCartridge presents the Brother MFC L9570CDW printer
7/17/2018
Webcartucho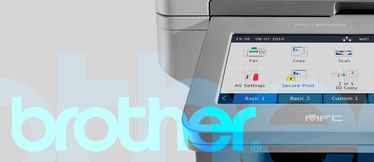 Do you know all the aspects which should be taken into consideration when choosing a printer? It is very important to know where, how and when that printer will be used. This is because the workload would not be the same whether it is used in a professional environment or in entirely domestic one
In the case you need a printer for an office, or for your work environment, it would be much more recommended a laser printer because it makes possible to work in a more efficient and smooth way. So today we are going to talk about the Brother MFC L9570CDW printer. This machine is part of the last range of laser printers launched to the market by Brother and it has been awarded with the Pick Award 2018.
It is a professional multifunction laser printer with capacity for black and colour toners. As multifunction laser printer, it allows several operations: printing documents, making photocopies, scanning and faxing. To manage all these functions, the machine features a touch screen of 17,5 cm.
This printer is capable of printing up to 31 colour or monochrome pages per minute and up to 14 units per minute, if it is a double-sided printing. The resolution of the printings is 1.600 x 1.200 pixels per inch, which is considered a high-quality reproduction.
Another important feature of the Brother MFC L9570CDW printer is that it can make use of its NFC connectivity. Thanks to that, all the workers will be allowed to use cards with the same NFC technology to identify themselves and make a profit of the printer operation.
The Brother MFC L9570CDW printer is equipped with a WIFI antenna and an Ethernet port, so it can always be connected through Internet. This gives the possibility to print from any device. It is also important to mention that this printer has USB ports to connect directly with an USB key and print the required documents.
This printer has received the Pick Award 2018 because of the characteristics mentioned above, but also because of the high quality of its printings, the capacity to optimize time because of its speed and the possibility of allowing the scanned files being included in the cloud.
The Brother MFC L9570CDW printer uses the toner model TN910, the drum model 421CL and the BU330CL as Belt Unit. In WebCartridge you can acquire the Brother consumables, both in compatible and in original version.