'Toner sensor error': a common problem with OKI printers — how to fix it?
10/28/2021
Webcartucho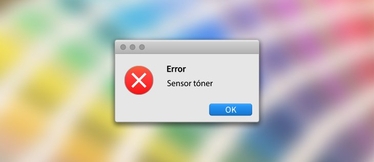 OKI printers are used extensively in professional environments due to their excellent performance levels. However, over time and with frequent use, a relatively common issue often arises. It's a sensor error which is usually the result of excessive dirt build-up. The sensor is an oscillating metal instrument that moves at varying speeds depending on the amount of toner present (the more toner, the less movement and vice versa). This means that the rate of oscillation determines the level of toner detected by the printer. This reading is obtained through a reflection of light emitted by an LED on a metal plate that rotates next to the oscillating rod. If this plate or the LED is dirty, the sensor does not receive the light reflection and the Toner Sensor error is produced.
Is there are solution? Of course. You must clean the metal plate that the light reflects off of. To do this, follow these simple steps:
The metal plate is located on the side of the drum and is protected by a round cover. First remove the cover.
Now, using a cotton swab soaked in alcohol, carefully wipe it off.
Once the metal plate has been cleaned, put the cover back on and leave everything as it was.
Ready? Now print out again to ensure that the error has been corrected.
If the fault was due to dirt build-up, which is the most common cause in cases like these, and the dirt has been removed, you will be able to print again without any further issues.