The advantages of cloud printing
10/27/2017
Webcartucho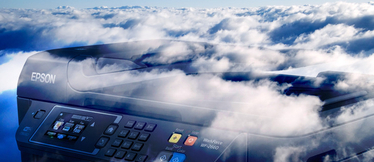 What are Internet clouds? What are they useful for and how do they work? During the past few years, cloud services providers have been striving to improve this technology and now most devices offer cloud storage options to save your files.
In the case of printing devices, it is now possible to wirelessly access your cloud from your laptop, tablet or smartphone and print your documents in an easy and comfortable way. This practice is known as 'cloud printing', and it will help you increase your productivity by saving you lots of time.
Nowadays most modern printers feature Internet connectivity and many tablet and smartphone applications allow printing just by touching the screen.
What apps allow you to use your printer online?
Google Cloud Print: requires you to use Google Chrome browser.
Easy Print: this Android app uses Google Cloud Print.
PrinterShare Mobile Print: this app connects with your printer through Google Cloud Printing, Wifi, Bluetooth or USB.
HP ePrint App: this app will allow you to use any wireless Hewlett-Packard printer.
AirPrint: this app for Apple requires your printer to be compatible with IOS system.
All these applications allow you to have free cloud storage space that you can use to sync other apps or devices to your printer. This is a very helpful system, since you can share your printer with more than one Google account, which means that it can be used from anywhere and by anyone you want.