How to reset toner and drum counter on Brother HL-2130 and HL-2240
8/23/2017
Webcartucho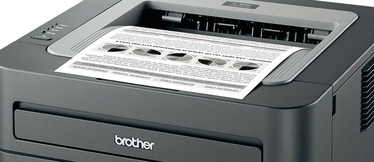 Brother laser printers normally indicate toner and drum levels and they show a message when these parts need to be replaced. However, the levels shown are based on statistical measurements, since these printers do not have any mechanism that enables them to determine the actual state of the toner and the drum, so it is not possible to know for sure whether they have actually reached the end of their lifespan.
These printers are equipped with a page counter that sets the amount of pages that can be printed, but it does not always operate properly. Sometimes the device may not request paper loading although no more paper is coming out or, conversely, it may ask for the toner to be replaced although the printing quality is still good.
When we replace the toner or the drum, the printer should be able to detect the replacement and restart the page counter from zero. With compatible toners and drums, however, the printer may not be able to recognise them and may continue to request the replacement.
To fix this problem you only have to reset the counter manually. This is an easy procedure that varies depending on the model and the brand of the printer.
Toner and Drum Counter Reset for Brother HL-2130, HL-2240 and similar printers
Ensure the printer is turned off. Then open the front cover and leave it open during the process.
Hold the "Go" button while turning the printer on. Then release it when all LED lights are on.
Press the "Go" button twice.
Wait for 2 seconds.
Press the "Go" button five times. The Toner LED will turn off and the Paper LED will turn on or flash.
Closet he front cover. The "Ready" LED will turn on.
Your printer is now reset.
This procedure Works for the following printers: HL-2130 HL-2240 HL-2250 HL-2270 HL-5130, HL-5140, HL-5150, HL-5150DN, HL-5170, HL-5170DN, HL-5180, HL-5280DN HL-2020 HL-2030 HL-2040 HL-2050 HL-2070 HL-2035 HL-2037 and HL-2037E o similars
Finally, we would like to remind you that you can find toner and drum compatible with your HL-2130 or HL-2240 at the best price in our online shop WebCartridge.