How to reset the toner and drum counters on a Brother DCP-L2700, DCP-7055 or MFC-7360 printer?
7/27/2017
Webcartucho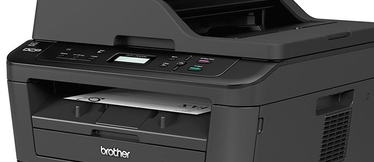 Laser printers are one of the most sold in the market, but sometimes many doubts can arise when trying to understand how they work. Brother printers shows both toner and drum levels, but it must be considered that this is a statistical measure. It means that it is not possible to know exactly if the toner or the drum is exhausted (the printer has no device to check this fact).
For the correct operation, the printer has a sheet counter allowing us to know how many pages can be printed, but it does not work always properly. It may occur that our device does not request changing the toner nor the drum, but you notice that the sheets does not appear. Or that the printer requires changing the toner, even when the printing is correct.
Once we reach this point, the best solution consists of manually indicating that the drum and the toner replacement has been made. This is a simple process that varies depending on the printer model.
Reset the toner
1. Open the upper cover to access the drum and toner;
2. Press "Remove";
3. Press "Start" and in the next four seconds move up in the screen towards the number 11 option. Press "ok". (If your printer has a numeric keypad, press "1" twice);
4. Close the upper cover.
Reset the drum
1. Open the upper cover to access the drum and toner;
2. Press "Remove";
3. You will be asked if you have replaced the drum;
4. Press "1" (the option is called "Reset the Drum Counter"). You will see "Accepted" in the LCD display.
5. Close the upper cover.
This operation is valid for the following printers: -7055, DCP-7055R, DCP-7055W, DCP-7055WR, DCP-7057, DCP-7057R, DCP-7057WR, DCP-7060D, DCP-7060DR, DCP-7065DN, DCP-7065DNR, DCP-7070DW, DCP-7070DWR, MFC-7360N, MFC-7360NR, MFC-7460DN, MFC-7860DW, MFC-7860DWR, MFC-7320, MFC-7440, MFC-7840W, DCP-7030, DCP-7040, DCP-7045 MFC-8220, MFC-8220N, MFC-8440, MFC-8440DN, MFC-8840D, MFC-8840DN, DCP-8040, DCP-8045, DCP-8045DN DCP-7010 DCP-7020 DCP-7025 MFC-7225 MFC-7400 MFC-7420 MFC-7820 FAX-2820 FAX-2825 FAX-2920 DCP-L2500D, DCP-L2500DR, DCP-L2520DW, DCP-L2520DWR, DCP-L2540DN, DCP-L2540DNR, MFC-L2700DW and MFC-L2700DWR.