How to reset the TN230 ink cartridges without dying in the process?
11/6/2018
Webcartucho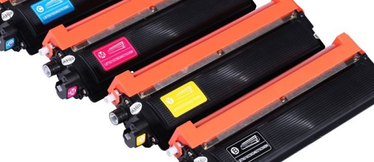 Are you looking to reset the ink cartridge TN230? If that is the case, look no further. You are in the right place. If you have come this far, we assume that you have one of the Brother DCP9010, HL3040CN, HL3045CN, HL3070CW or HL3075 printers that are compatible with this ink cartridge. These type of consumer appliances are usually reset so that to extend the product lifespan or simply because you receive an error message. The best of all is that you can follow these steps yourself at home while paying a little attention to this reading.
Come on, there we go!
How can I reset the TN230 ink cartridge of my Brother printer?
Firstly, open the printer front cover.
Once opened, press the "SECURE PRINT" and "CANCEL" keys at the same time. Please note that depending on the printer model, it may be that you should press the "DELETE" and "RETURN" keys at the same time.
Now "K-TNR-STD" will appear on the printer's screen.
Use the + and - keys to select the toner cartridge you want to reset. The following codes, depending on the colour, will appear on the LCD screen:

For Black toner: "B.TNR-STD" or "K.TNR-STD".
For Cyan/Blue toner: "C.TNR-STD".
For Magenta toner: "M.TNR-STD".
For Yellow toner: "Y.TNR-STD".

Press the "OK" key to select the toner cartridge to be reset.
On the LCD screen it should appear "OK?". It is time to press OK again to reset the selected cartridge.
Lastly, the display will show the message "Front Cover Open". You just have to close it and applaud you for having done it so well and easy.
So now you know, if you have a Brother DCP9010CN, HL3040CN, HL3045CN, HL3070CW or HL3075CW printer you can reset yourself the TN230 cartridge. If you have searched a lot in Google, you will see that you are not the only one who has searched for resetting or restarting the toner or drum of the printer. Good luck!