How can you replace your printer cartridges?
6/28/2017
Webcartucho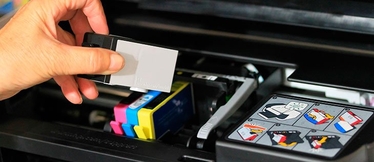 Printers are often quite complex. Replacing a toner or a drum, finding the desired quality, all the buttons it has, etc., are some of the most common problems googled. In this article, we are going to focus on how to replace an empty ink cartridge with a new compatible cartridge.
Step 1: Preparing the printer
Checking the printer is on is extremely important to successfully replace the cartridge. Afterwards, the printer cover needs to be opened, but please remember that each printer has its own procedure to do so.
Step 2: Removing the used cartridge
The cartridge will move to the changing position. Press the "Stop" or the "Maintenance" button (this depends on the printer), so the cartridge moves and can be extracted. Remove the used cartridge by pushing its sides.
Step 3: Unsealing the new cartridge
Now it is the time to remove the new cartridge seal. Some manufacturers suggest to shake the cartridge before inserting it. Please, notice the yellow label: it is very important to remove it without leaving traces. Its function is to cover upcoming air entrance, so the cartridge does not dry, but the label is not properly removed, neither the vacuum will be broken, nor the ink will leave.
Original cartridges do not have this seal, but other mechanisms, those increasing the price of the product. The remanufactured cartridges do not work with this system, only new compatible cartridges having this yellow label do: most of them are Epson or Brother cartridges, but HP and Canon also have it in some models.
For many HP, Lexmark and Canon cartridges, it should be considered that they may have a cover: it must be removed before inserting the cartridges in the printer. It might also happen that the cartridges have orange seals, which should be removed as well.
Step 4: Placing a new cartridge
It only remains to insert the cartridge and be sure that the printer starts changing the ink. In certain cases, the "Stop" or "Maintenance" button will continue flashing until the printer finishes.