EcoTank, the alternative to the traditional ink cartridge
5/15/2019
Webcartucho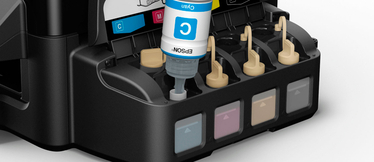 Are you tired of running out of ink when you most need it? Would you like to stop changing your cartridges with such frequency? Epson offers you the perfect alternative. The EcoTank consumables will provide ink for almost two years without needing to change it. 
This revolutionary system combines profitability, comfort, quality and reliability in the same place. The EcoTank cartridges are perfect for personal use and offices that need to print everyday documents with the greatest possible comfort.
Stop worrying about changing your cartridge from time to time because these cartridges can print up to 4,000 pages in black and 6,500 in colour. This is a new way of printing with a minimum cost and considerable results.
Once you run out of ink, you just need to refill the reservoir with the Epson ink bottles. Each one is equivalent to 20 cartridges worth of ink but at a lower price. This means a 65% saving in the cost of everyday printings. It is important to know that users of this system will need to make a greater investment in the printer that will be profitable with the ink bottles.
The printers with EcoTank include the ink tanks on the outside of the device. Thanks to the mechanical printheads the ink reservoirs won't be blocked up.
We often buy cheaper printers and expensive consumables, but the EcoTank technology proposes the exact opposite: expensive printers and cheaper cartridges.
The EcoTank cartridges are the perfect alternative to the traditional ink consumables. We can even use them up to two years and their change is very simple, effective and without costs. 
Moreover, we remind you that at WebCartridge you can find a wide selection of EcoTank bottles, available for different printers. What are you waiting for?