Do you want to reset your Brother DR3400 drum and you don't know how to do it?
3/18/2019
Webcartucho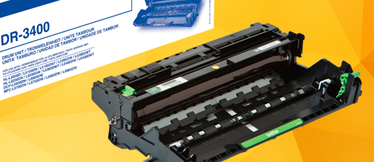 Why is it necessary to reset the drum of the Brother printers? Considering that there are several models on the market, on this article we are going to focus on how to reset the Brother DR3400 drum. 
Let's start by the beginning and see why it is necessary to reset the drum. When do we need to do it? Sometimes the page counter reaches the maximum amount of copies allowed by the manufacturer. That's when your printer displays the typical error message. This is not due to an error or because the ink is finished. In fact, it can lead to confusion because the printing quality is still good and we don't see any kind of stain.
Sometimes, this error message appears because we are using a recycled product that our printer does not recognize. If that is the case, the solution is very simple and can be done in a few seconds. You will only need to reset your Brother DR3400 drum.
How can I reset the Brother DR3400 drum of my printer?
Turn on the computer and make sure that the Brother consumables access cover is closed while following these steps;
Once you are sure it is closed, press "Cancel" to see the error message;
Press "Setting" in the control panel;
Press "All Settings";
Press "Machine Info." and choose "Parts Life";
Press "Drum" until the machine's display message changes.
Press "Yes".
Finally, press "Home" to finish the reset process.
As you can see, resetting the Brother DR3400 drum is very simple. You only need to follow these quick steps to see that the error message disappears. Then you can continue printing as per usual. Do not forget that at WebCartridge you can purchase the DR3400 drum, either compatible or original.