Do you not know the HP DeskJet 3720 printer yet?
10/16/2018
Webcartucho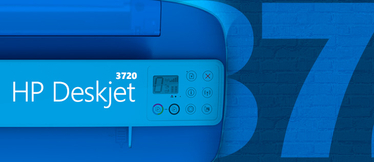 Just a year ago HP launched the new range of DeskJet 3720, that came to revolutionize the market. Twelve months later, we can say that it is true. The starting point is clear: the key of the DeskJet 3720 lies in the new necessities of the users, hyperconnected and digital natives, who demand compact and wireless printers that suit their lifestyle and with which they can stay productive and connected at any time. With an more than intuitive operation and the ability to print from almost any device or social network, the HP DeskJet 3720 printer has come to transform the world of printing.
Main features of the HP DeskJet 3720
One at a time. One of its greatest advantages is the size: with a modern and elegant design, the DeskJet 3720 is twice as compact as other ink printers in its class; and all this without affecting the printing, digitization, copy or connectivity capabilities.
But the DeskJet 3720 is not just a nice case with fresh colours that you can place anywhere, that it is also true. Its strength lies in a great versatility, offering you more than 50 digital printing solutions, in which factors such as innovation, speed, performance or power are equally combined.
What can you find in this printer that will transform your daily life?
Several things. First of all, the fact of being able to print from your smartphone or tablet, something that had never been so easy thanks to the integrated solutions of the mobile application HP All-in-One Remote. It is a free application that offers the essential functions to carry the printing, copy and digitization from most of smartphones and tablets, especially for Apple, Android and Windows models.
But there is still more. You can print without any wires thanks to the wireless printing functions that are offered by its different applications (Air Print for Apple systems or HP Print Service Plugin for Android systems). You just need to connect it to the same network, to which your printer is connected. And if for any reason you cannot access to it, you can create a safe connection between the device and the printer thanks to the HP WiFi Direct solution. And to print, of course.
We continue. If social networks are your thing, this printer will also be: with the DeskJet 3720 you can print, share and customize your photos from your most visual profiles like Facebook, Instagram or Flickr; but also from your smartphone camera. All thanks to another HP solution; in this case, HP Social Media Snapshots. Do you still want more? Download the HP Printbot application so that Facebook Messenger users can print effortlessly and wirelessly from the chat window.
And yes, it is true, you spend hours checking your phone; but this does not mean that you do not have an artisanal side, lover of the small details and personalized decorations. Therefore, the DeskJet 3720 is also for you: It will allow you to develop your creative vein while offering you various formats in which you can produce your creations, from a large-format printing on canvases, to its new self-adhesive photo paper, size 4x5 cm, specially conceived for this printer, and perfect for presents or fresh and funny decorations.
And we cannot forget about its scanner: versatile and easy-to-use, use the HP Scroll Scan to scan different types of paper, but also driving licences or bills.  Or digitize it and send it directly to your e-mail adress with the HP AIO application. You decide.
Technical data of the HP DeskJet 3720 printer
We have announced some of the advantages of the DeskJet 3720 printer, but we cannot forget about the most technical data: it prints 8 pages per minute in black and 5,5 in colour; the speed of copy is 4 copies per minute in black and up to 2,5 in colour. It uses the HP 304 cartridges, both in black and in colour. It respects the environment thanks to a low energy consumption and it has an optional silent mode to not disturb anybody.  Note that the Time magazine named HP DeskJet printers one of the 50 most influential devices of all times.
For these and for many other reasons, the DeskJet 3720 is revolutionizing the printing market. Do not say that we have not warned you.