Can I trust compatible cartridges?
10/27/2021
Webcartucho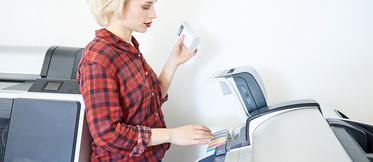 What's the difference between an original and a compatible cartridge? Why should I buy compatible products? It's not uncommon to find yourself torn between choosing original or compatible consumables. Printer manufacturers are obviously in favour of you buying their own original cartridges. However, if you listen to the advice of reliable, non-biased sources outisde of the printer business who have tested these cartridge themselves, they will most likely advise you to go for consumible ones.
Do you know what a compatible cartridge is exactly?
This kind of consumable product is nothing more than an ink cartridge manufactured by a company other than the printer manufacturer. These days, many people rely on these products when using their printers. Why is that? There are several advantages associated with this type of product, but we'd like to highlight two of them:
they're cheaper, so you make big savings;
they're more environmentally friendly.
These types of cartridges have the same functionality as an original cartridge and can save you up to 75%. What's more, it's worth noting that they offer the same guarantees as original cartridges (undergoing a series of very strict quality control checks).
What other advantages do compatible consumables have?
Contrary to what some may believe, these consumable products are at the ame level when in comes to yield, performance and technology as their direct competitors. This means that you'll not only be able to print the same number of pages, but the quality and precision of the text and images will match those produced using original products.
So, the bottom line is that there is nothing stopping you from buying compatible cartridges. They are of the same quality and have the same guarantees as originals, so there's absolutely nothing to be concerned about! And, if you still in any doubt, at Webcartridge we offer a wide range of compatible cartridges for different printers. We'll be delighted to help you find the right one for you and further explain the benefits of these consumable products.