Do you want to know how to reset your Canon Pixma MX360 printer?
1/25/2019
Webcartucho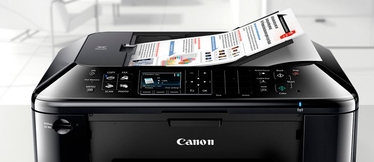 Do you need to reset your Canon Pixma MX360 printer and you don't know how to do it? Don't worry, because this type of printers can be reset very easily. As in the rest of devices, if you decide to start the process, remember you need to set up again all the information: language, time, etc.
Why do we need to reset our printer? Sometimes we try to install compatible cartridges instead of original ones and the devices realizes it. So we are used to see that error message that stops us from printing. From WebCartridge we let you know that the consumables used by the Canon Pixma MX360 printer are: PG510 and CL511 o PG512 and CL513. To solve the problem, it is advisable to reset or reinitialize our device.
How can I reset the Canon Pixma MX360 printer?
There are two ways to reset the printer. We let you know both, so you can decide which one suits you best.
First option:
Open the software of the Canon printer (Canon Utilities).
Select the folder "My printer" and press "Printer Status".
Go to options and select "Enable Status Monitor".
You can now save the changes and close the program.
Second option:
Check that the printer is off but connected.
Press the button "Stop/Reset" and the button of "Start". Press both at the same time.
Press the "Start" button and let go the "STOP/RESET" button.
Press twice the button "STOP/RESET" and let go the "Start" button.
See how the indicator light starts to flicker.
Once you have seen it, press the button "Stop/Reset" three times.
Now wait for the indicator light to become orange.
Switch off the printer and switch it on again. You will see that the reset is now finished.
Compatible printers with both options:
Canon PIXMA MX320, Canon PIXMA MX330, Canon PIXMA MX340, Canon PIXMA MX360, Canon PIXMA MX410, Canon PIXMA MX420, Canon PIXMA MP490 and Canon PIXMA MP230.